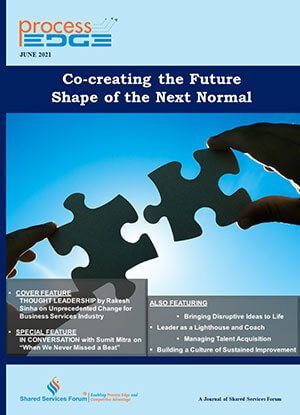 Editor's Note
A Kaleidoscopic View of the Business Services Industry
In the last five months, the second wave of the Covid-19 pandemic hit the world, and more specifically, India, with a tsunami like force that no one expected or pre-empted. While people were trying to pick up the pieces of their shattered lives, businesses were also suffering and trying to come to terms with their losses. To a great extent, astute and agile businesses houses were able to tide over quickly. These were the companies that turned out to be resilient and quick to adopt novel technology solutions.
As we experience the various "waves" of the Covid-19 pandemic, the term "risk" has begun to assume slightly different proportions that it did in the past. Studies in the various forms of risks were always abounding, as were their mitigants, but no-one really expected the outbreak to be that severe. None of the individual factors that presented themselves during this pandemic were unknown. The world was already familiar with managing global outbreaks of viruses that cause acute respiratory symptoms – SARS in 2003, Avian flu in 2005, and H1N1 in 2009. But CoV-2 coronavirus is novel because the infected people become both asymptomatic and contagious for an extended period, spreading it much farther and faster than most health care systems were geared up for. It also mutates quickly and turns terminal.
Underestimating risk happens in the best of companies. Some remote and improbable risks are never even considered a part of the possibilities. And even if the firm does envision them, it may be unwilling to invest in the capabilities and resources to cope with them because they seem so unlikely. In addition, each firm has a risk threshold that it works within.
With the coming of the Covid-19 pandemic a lot has changed. For one, the risk threshold of most companies has been pushed. Even liberal, deep thinking organizations have begun to design plans for hitherto improbable events. Secondly, change is not an unwelcome concept anymore. Companies, and for that matter, society at large, are accepting change as routine. The pandemic has forced people to re-look at the priorities and plan for eventualities – even extreme eventualities.
The fact that work-from-home/ anywhere has become the norm has successfully changed the environment – for both corporates and individuals. Technology solutions have emerged supporting this change; controls and governance got strengthened; leadership, trust and motivation have had to be redefined; workforce restructuring became necessary, business models changed overnight. On the human front, family and social interactions changed, stress and emotional standards fluctuated widely, work hours blurred into personal time and health awareness took a huge upswing. Considering that WFH, in itself, seems a minor activity, in its wake it has altered a complete lifestyle to an extent of huge, global proportions.
In these kaleidoscopic, zig-zag times, the current edition of our journal brings out multiple flavours and contours of the services industry. Rakesh's thoughts on behavioural and environmental changes to be expected in the near future with the services industry are eye openers, as are his predictions on the "ocean" of change he expects. In addition, we bring about several thoughts propounded by the industry leaders on people engagement, hiring and leadership, all of which are undergoing inherent and fundamental changes. Options for growth available to GICs/ GCCs in India, after the onset of the global pandemic, are being explored by the astute leaders of today. In this direction, we also bring you excerpts from an interview with a global Business Services leader, Sumit Mitra. We hope that you will find this edition stimulating. As usual, we look forward for your views and feedback.
Edition Publish Date: June 2021
Table of Contents
Shape of the Next Normal
UNPRECEDENTED CHANGE FOR THE BUSINESS SERVICES INDUSTRY
RAKESH SINHA
When We Never Missed a Best
LEADERSHIP DURING TURBULENT TIMES
IN CONVERSATION WITH SUMIT MITRA
Advantage India GICs
THE PANDEMIC SPRINGBOARD – BRINGING DISRUPTIVE IDEAS TO LIFE
DEEPAK PULIGADDA
Leader as a Lighthouse
A COMPULSIVE FORCE FOR REFORMATION TO HOLISTIC WELL-BEING & FUTURE READINESS
SUDHIR BANERJEE
Leveraging Employee Engagement
BUILDING A CULTURE OF SUSTAINED IMPROVEMENT
JASMEET SINGH KOHLI
Managing Talent Acquisition
MODELS FOR GLOBAL CAPABILITY CENTRES (GCCs)
GAURAV CHATTUR
10th Annual Global Business Services Conclave
ACHIEVING ESCAPE VELOCITY IN UNPRECEDENTED TURBULENT TIMES
EVENT BRIEF
REQUEST FOR YOUR COPY TODAY