Crossing the Rubicon
From Dream to Reality in Global Business Services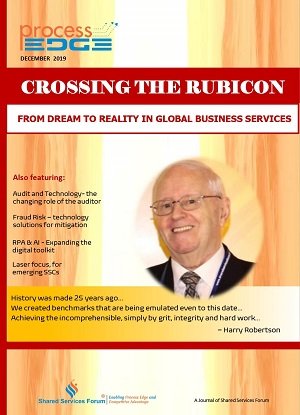 Editor's Note
In this day and age, while India has attained centre stage in many global arenas, such as IT and Business Services, it is quite common to have expats from many developed nations stationed in the India offices of their global corporates. Harry Robertson is of the rare breed of overseas leaders who ventured to live in India in the early 90s, which was till then probably only an exotic vacation location for most westerners.
Diminutive, bespectacled, soft-spoken, and naturally shy. That's how Harry Robertson comes across as a first impression. Appearances soon turn out to be deceptive. In the first interaction itself, one discovers that he is an astute business leader carrying a laser sharp mind. I guess it's the natural auditor in him that makes him notice even the small things and question them. In his soft and quiet style, he managed to not only spearhead a global transformation movement, but also motivated a host of divergent leaders to align with his vision. In the early days, the terms Shared Service and BPO were not yet coined. There were no professionals in that field. Nor were there any people experienced in it. One of the toughest jobs that Harry must have had would have been to assess the skills and capabilities of the potential leadership team and map them to the job. The second toughest job would have been to convince those leaders to join him in the venture.
I had the opportunity and the privilege of working very closely with Harry in the late 90's. By then Harry had already established a cult following in American Express India. He came as an expat but created great bonds all across the organisation. There were just no reservations. Each and every employee was free to walk up to him at will, and Harry would
devote both attention as well as time to the employee. A significant tribute is due to Harry for creating a culture of respect and professionalism. Today, we look back in fascination on how that bank of mavericks managed to not only create a world wonder, but also a multitude of leaders and pioneers in the field of Business Services. Pretty much each member of the initial team is today an established authority on it. If there is one person who should be identified for having instituted this movement, then that has to be Harry.
In this edition of Process Edge, we bring to you a glimpse into how Harry got his 'Rubicon' moment, in his own words. We also bring to the reader some insights on how this new, dynamic and technology enriched world explores issues around fraud, evolving audit techniques and even using IA to migrate towards creating next-gen shared service centres. Moving away from pure technology, we bring views around basic, first steps for the uninitiated – a guide for leaders to use while setting up shared service units for their organisations.
Edition Publish Date: December 2019
Table of Contents
COVER FEATURE
Crossing the Rubicon
FROM DREAM TO REALITY IN GLOBAL BUSINESS SERVICES
Audit and Technology
AN EXTRACT FROM THE ACCA – CA ANZ REPORT 2019
The 3rd National HR Leadership Summit 2019 – Event Report
BUILDING ORGANIZATIONS OF TOMORROW
Fraud Risk in Today's Technology-Led Finance Function
NEED FOR AN IMPROVED CONTROLS FRAMEWORK
SSF's Leadership Interaction at New Delhi – A Report
LIFE EXPERIENCE OF A PATHBREAKING JOURNEY AND BIG TRENDS OF THE BUSINESS SERVICES INDUSTRY
North Star And A Successful Transformational Journey
SETTING-UP A SHARED SERVICES ORGANIZATION
SSF's Leadership Interaction at Pune – A Report
THE CONUNDRUM OF A DIGITAL JOURNEY – MYTHS & CRITICAL SUCCESS FACTORS
Think Big, Start Small
HOW RPA & AI WILL BUILD THE NEXTGEN SHARED SERVICE CENTRES (SSCs)
REQUEST FOR YOUR COPY TODAY